Factory Wholesale Toner Toner cartridge CF511A Premium Compatible Toner Cartridge For M180/M154/M181 Laserjet printer
Product Description
#detail_decorate_root .magic-0{border-bottom-style:solid;border-bottom-color:#53647a;font-family:Roboto;font-size:24px;color:#53647a;font-style:normal;border-bottom-width:2px;padding-top:8px;padding-bottom:4px}#detail_decorate_root .magic-1{vertical-align:top}#detail_decorate_root .magic-2{vertical-align:top;display:inline-block;padding-right:4px;width:50%;box-sizing:border-box;margin-bottom:-4px;padding-left:0;margin-top:-4px}#detail_decorate_root .magic-3{vertical-align:top;padding-bottom:4px;box-sizing:border-box;padding-top:4px}#detail_decorate_root .magic-4{width:375px;height:NaN;overflow:hidden}#detail_decorate_root .magic-5{position:relative;left:0;top:-10px;width:375px;height:375px}#detail_decorate_root .magic-6{vertical-align:top;display:inline-block;padding-right:4px;width:50%;box-sizing:border-box;margin-bottom:-4px;padding-left:0;margin-top:-4px;margin-left:-3px}#detail_decorate_root .magic-7{width:364px;border-collapse:collapse}#detail_decorate_root .magic-8{min-height:18px;padding:5px 10px;width:73px;min-height:18px;box-sizing:content-box}#detail_decorate_root .magic-9{min-height:18px;padding:5px 10px;width:251px;min-height:18px;box-sizing:content-box}#detail_decorate_root .magic-10{margin-bottom:10px;line-height:0}#detail_decorate_root .magic-11{margin-bottom:0}#detail_decorate_root .magic-12{position:relative;width:100%}#detail_decorate_root .magic-13{margin-bottom:10px;overflow:hidden}#detail_decorate_root .magic-14{width:750px}#detail_decorate_root .magic-15{overflow:hidden;width:750px;height:809px;margin-top:0;margin-bottom:0;margin-left:0;margin-right:0}#detail_decorate_root .magic-16{margin-top:0;margin-left:0;width:750px;height:809px}#detail_decorate_root .magic-17{overflow:hidden;width:750px;height:730px;margin-top:0;margin-bottom:0;margin-left:0;margin-right:0}#detail_decorate_root .magic-18{margin-top:0;margin-left:0;width:750px;height:730px}#detail_decorate_root .magic-19{overflow:hidden;width:750px;height:467px;margin-top:0;margin-bottom:0;margin-left:0;margin-right:0}#detail_decorate_root .magic-20{margin-top:0;margin-left:0;width:750px;height:467px}#detail_decorate_root .magic-21{overflow:hidden;width:750px;height:728px;margin-top:0;margin-bottom:0;margin-left:0;margin-right:0}#detail_decorate_root .magic-22{margin-top:0;margin-left:0;width:750px;height:728px}#detail_decorate_root .magic-23{overflow:hidden;width:750px;height:101px;margin-top:0;margin-bottom:0;margin-left:0;margin-right:0}#detail_decorate_root .magic-24{margin-top:0;margin-left:0;width:750px;height:101px}#detail_decorate_root .magic-25{vertical-align:top;display:block;padding-right:4px;box-sizing:border-box;padding-left:4px}#detail_decorate_root .magic-26{padding:0;margin:0;white-space:pre-wrap;font-size:14px}#detail_decorate_root .magic-27{font-size:16px}#detail_decorate_root .magic-28{overflow:hidden;width:750px;height:60px;margin-top:0;margin-bottom:0;margin-left:0;margin-right:0}#detail_decorate_root .magic-29{margin-top:0;margin-left:0;width:750px;height:60px} Product Description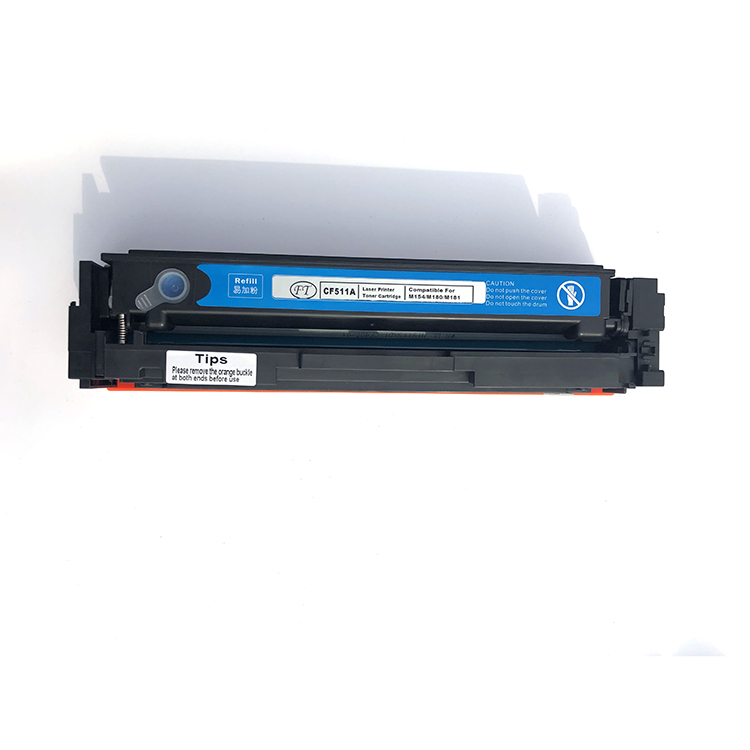 | | |
| --- | --- |
| Model | |
| Brand | OEM |
| Color | C |
| Warranty | 18months |
| Feature | premium toner/compatible/easy to add toner/factory price |
| Defective | below 1% |
| Quality | All our products are tested 100% |
| Promotion | You can enjoy a big discount and gift in Trade Assurance Order by alibaba |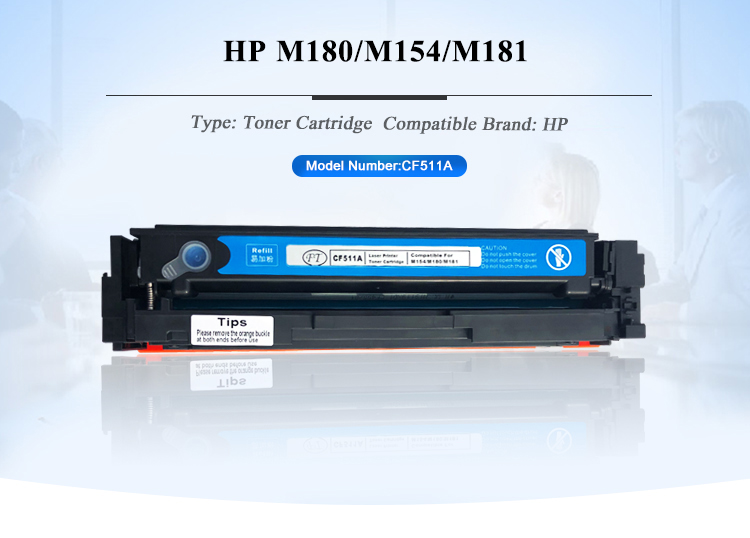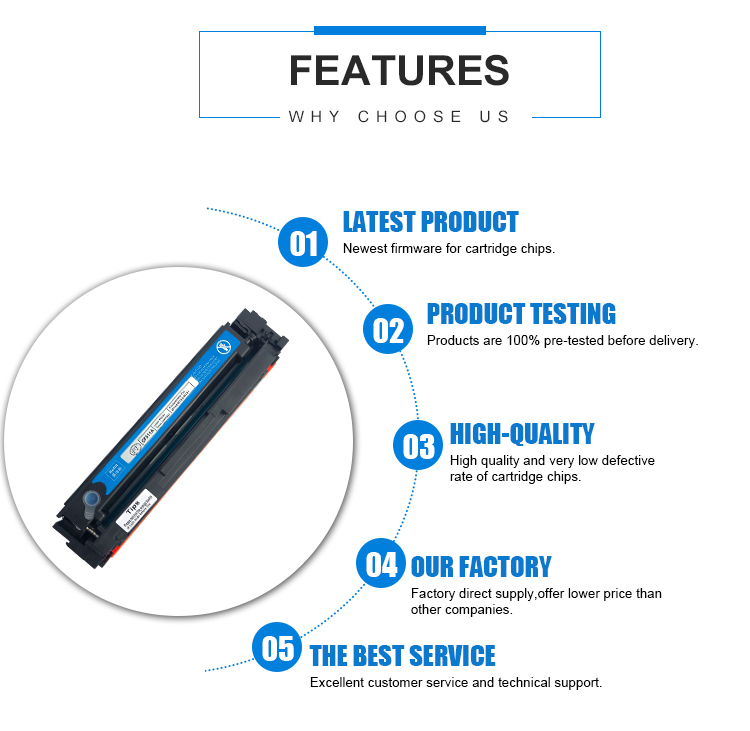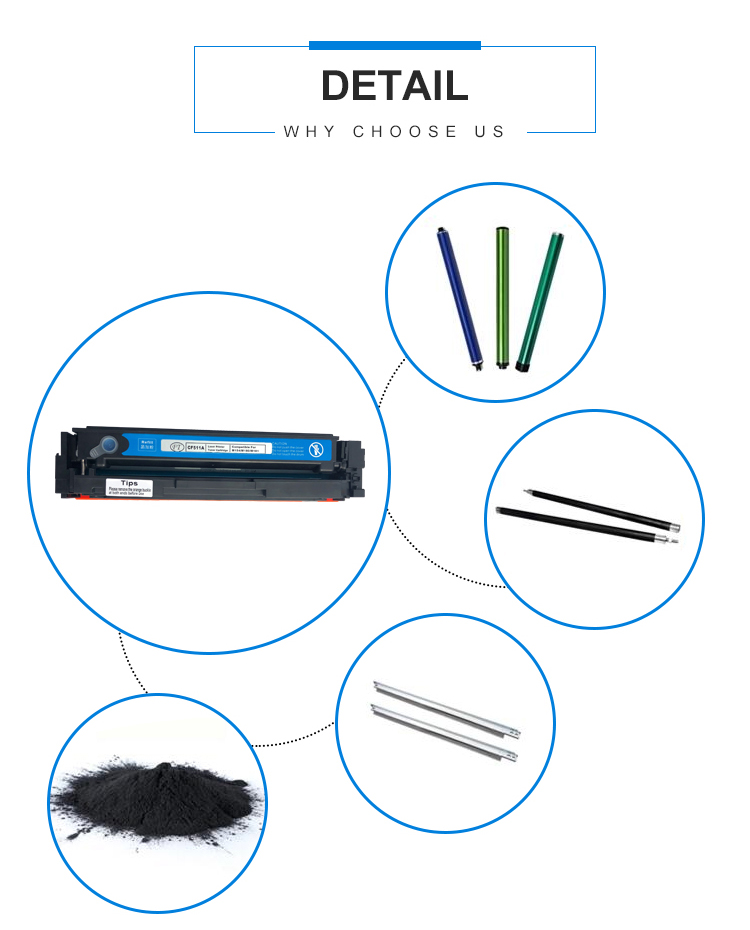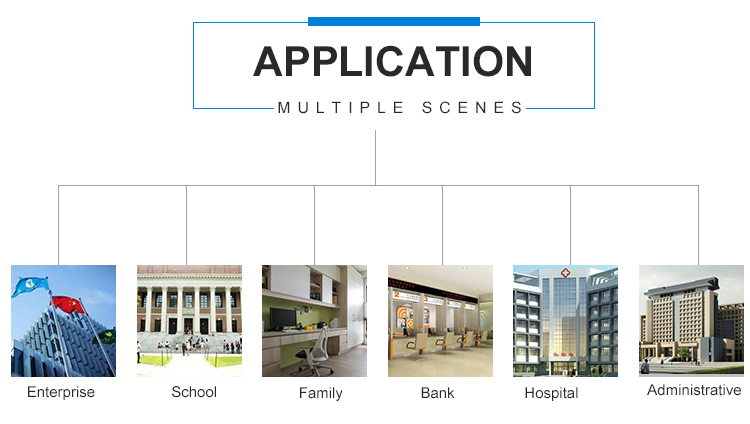 Related Products Company introduction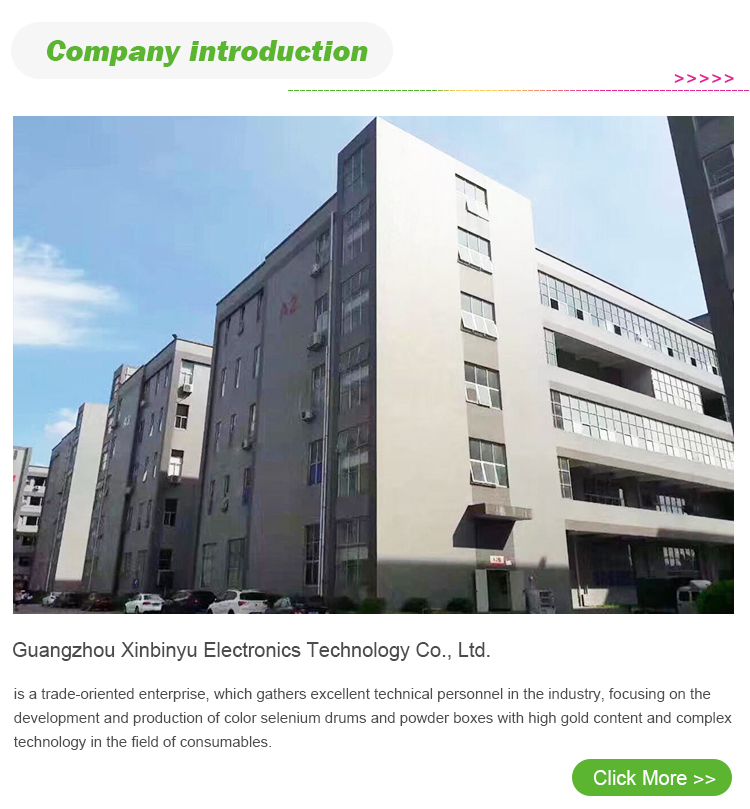 Factory display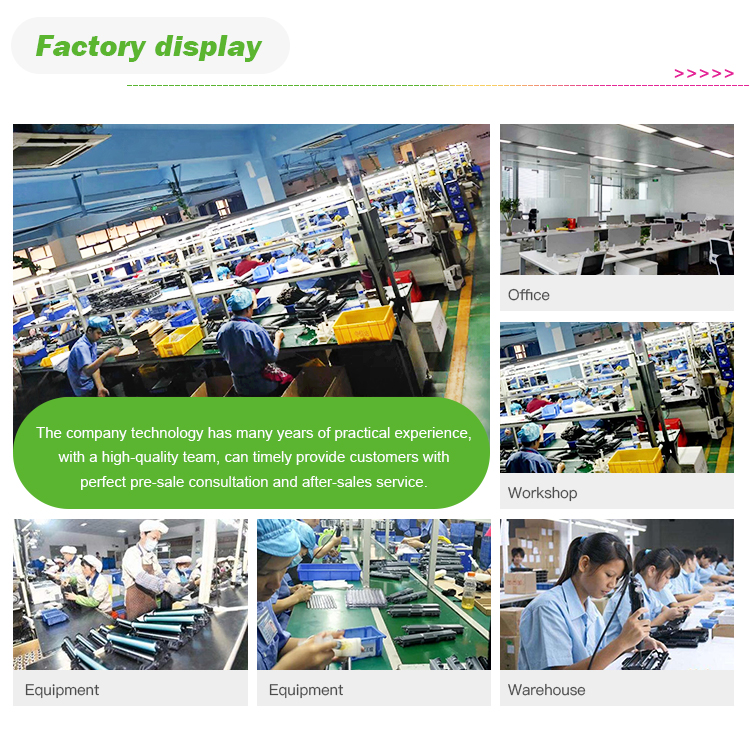 Packing shipping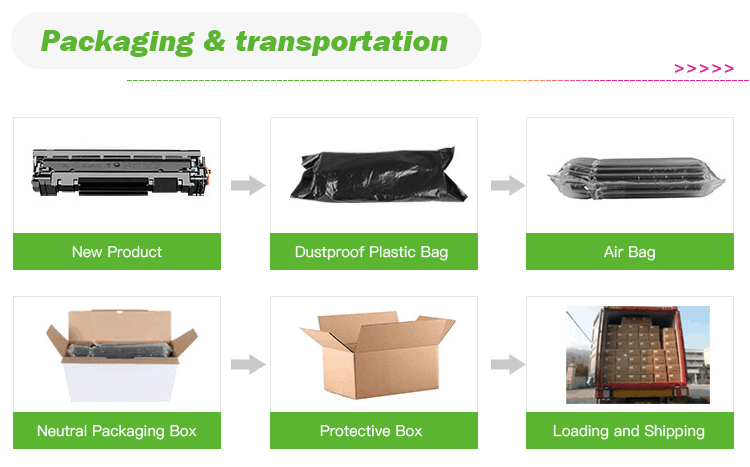 Exhibition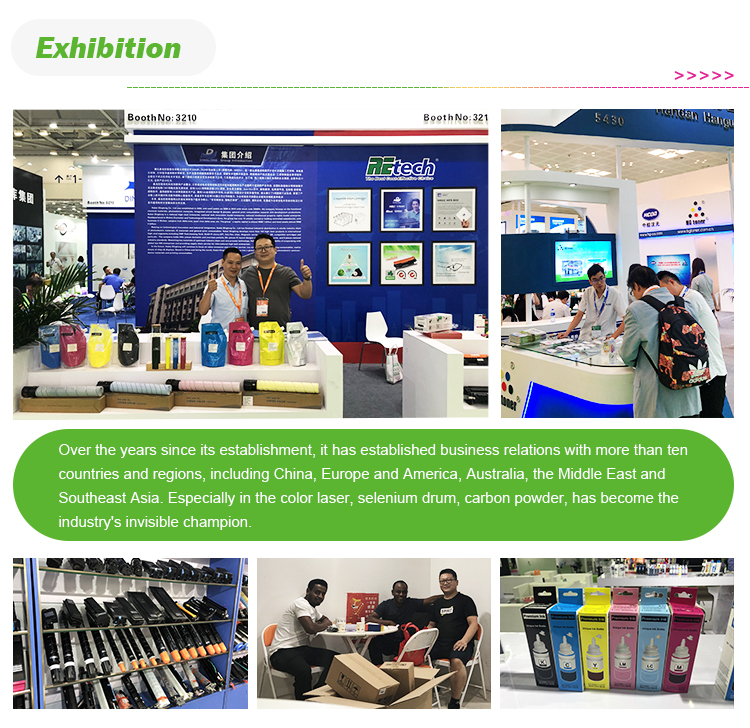 FAQ
Q. Will I get the same number of prints using an FT toner cartridge?
A. Yes, our Premium toner cartridges are equal to the OEM in print yield and density.
Q. Will an FT re-manufactured cartridge fit into my printer the same as the OEM?
A. FT cartridges are remanufactured using good quality OEM shells so when installing your re-manufactured cartridge you can be ensured of the exact same fit.
Q. My pages have lines or dots down them. Is this the cartridge or the printer causing the problem?
A. The quickest way to determine whether an image defect is a cartridge or printer related is to replace the cartridge. If you have two of the same model printer you can swap the cartridges around. If the problem follows the cartridge then you know it is a cartridge problem. If the problem stays with the printer, despite what cartridge is fitted, then it's a printer problem.
Q. My pages have light streaks or are blank?
A. If the cartridge has recently been installed, check that the seal has been removed. If the cartridge has been in the printer for some time it may just be running out of toner. You can take the cartridge out of the printer and gently rock it tore-distribute the remaining toner, but it will need replacing in the near future.
Q. Can you arrange to package for my private brand?
A. Yes, we can arrange your private label packaging provided the quantity reaches a certain level. We also provide design services.
Q.How's your product quality?
A. Each step of production is strictly Monitored by the Quality Control Team, and there are checking spots for the key production steps to conduct a 100% inspection. 100% Post Test Printing After cartridges are manufactured, they will be applied with 100% post-test by printing test pages. Cartridges with a defect will be reworked.

Contact us if you need more details on toner cartridge. We are ready to answer your questions on packaging, logistics, certification or any other aspects about Toner cartridge CF511A、M180\/M154\/M181 Laserjet printer toner cartridge. If these products fail to match your need, please contact us and we would like to provide relevant information.
Product Categories : Ink Cartridge > For HP